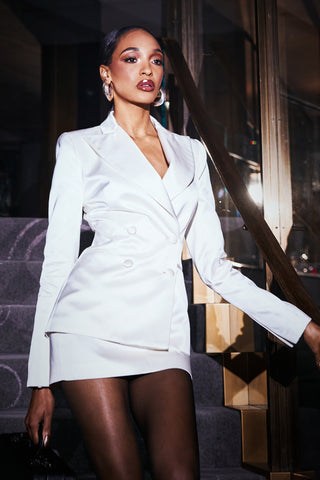 LAQUAN'S VISION FOR
FALL / WINTER 2023
"The LaQuan Smith woman is growing, and she's incorporating elements of sexiness into all aspects of her life from the material to the tailoring."
ABOUT THE COLLECTION
As guests overlooked New York City in the iconic Rainbow Room, the collection's identity took form with the force of high glam. Smith's collection are typically glamorous by nature due to his body-con and body-exposing party-ready designs. But this time collection upped the ante on contemporarily chic designs.
For the first time, tailoring-focused designs seeped into Smith's vision – offering up reworked dresses reimagined with tuxedo lapel detailing, a fitted black tuxedo with a backless jacket, remixed jackets and a luxe silver double-breasted skirt suit. The LaQuan Smith woman was also outfitted with the updated cutout dresses, which are a brand signature, deep neck sheer tops, a reversed blazer dress and a show stopping black tinsel turtleneck dress.
— HYPEBEAST